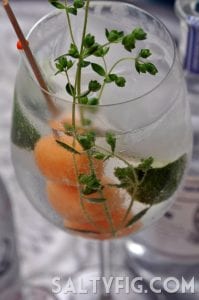 Aside from the Kentucky Bourbon I drank as a teenager, ahem, Gin was really the only other hard liquor I've ever considered fit to drink.  My parents enjoyed Gin and Tonics on the Jersey Shore in the summers and on Candlewood Lake in Connecticut. Every summer, we'd head off to the beach for a trek with our whole family. We'd end the day playing bocce ball in the sand, gin and tonics at hand, while the sun set.
Over the past year, Tony (my cute husband) and I have had the opportunity to travel to Spain twice and fell in love with Spanish Gin Tónicas.  Spaniards have a love affair with different gins but also flavor their tonics with coriander, white pepper, licorice, cinnamon, and tangerine. Spanish-style drinks are more of an approach than a recipe, so keep in mind the following:
Use a really large fun glass
.
Make your own square ice cubes ahead of time with a large silicon mold.
Buy excellent Gin, we like St. George Botanivore Gin
.
Pour Gin over the ice cubes until your guest says STOP, this is the Spanish way.

Fill the rest of the glass with cold tonic water
.
Garnish with Fresh fruit: strawberries, peaches, melon, or mango.

Add a sprig of fresh herbs from your garden: oregano, thyme, mint or lemon balm
.
Squeeze a Lime, Lemon, or Blood Orange wedge for a finishing touch.
Relax and watch the sun set.

Gin Tónicas by The Beach
Ingredients
1 large fancy balloon glass
3 large Square ice cubes
2 oz. Gin, cold
6 oz. Tonic, cold
3 melon balls
1 sprig oregano, fresh
1 lime wedge
Method
Make the ice cubes 1 day ahead of time.
Place three ice cubes in a large fancy balloon glass.
Add the cold gin.
Pour the tonic in.
Garnish with melon balls on a skewer and fresh herbs and lime.
Enjoy!