This roast pork loin can served hot or at room temperature. One big misconception of dinner is that it always needs to be piping hot.  Room temp food can often taste better, as the flavors and juices have time to become more fragrant.  I like to make a larger quantity of meat than you could possibly eat in one night, and then use it in a variety of meals over the next few days. When it's freshly cooked, this roast and an arugula salad with roasted almonds and a sherry vinaigrette make a perfect pair.
Afterwards, try serving roast pork loin sandwiches on crusty bread with roasted red peppers or on warm flour tortillas with guacamole and pineapple salsa. If someone in your home says "I don't eat leftovers", answer "These aren't leftovers, they're a new recipe!" A yummy dinner takes a bit of planning; no one ever cooks 7 nights a week in 20 minutes or less. Take the pressure off yourself! If you spend some energy finding a variety of quality ingredients that will enhance the roast, you'll save time and more of your meals will get better.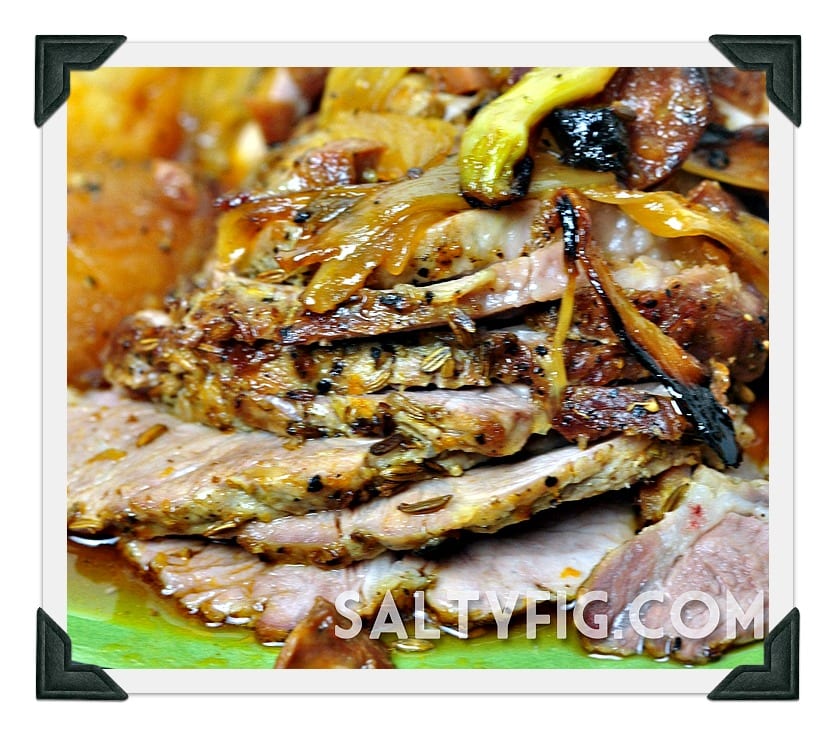 A Recipe for Roast Pork Loin with Apples and Fennel
This roast can reserved hot or at room temperature. An arugula salad with roasted red peppers and roasted almonds with a sherry vinaigrette make a perfect accompaniment.
Ingredients
6 lbs. pork loin roast
2 oranges, zested on a microplane, juiced and set aside

4 Tablespoons whole fennel seed, toasted in a dry skillet until fragrant
4 cloves garlic, minced
1 Tablespoon salt, Kosher

fresh ground black pepper
¼ cup olive oil
¼ lb. Spanish chorizo, ¼ inch dice
2 fennel bulbs, julienned
4 apples (pink lady, gala, granny smith or honey crisps), peeled, quartered and cored.
1 teaspoon salt, Kosher
fresh ground black pepper
½ cup sherry, fino (** There are several types of Sherry that range from sweet to dry. Fino is the driest)
2 cups chicken broth
Method
Combine the orange zest, fennel seed, garlic, salt, and black pepper.
Rub pork loin with the above mixture and allow to sit at room temperature for 1 hour before roasting.
Preheat oven to 450º F or 425ºF convection
Heat ¼ cup olive oil in a large roasting pan.
Add the pork loin and sear on all sides, turning it as the meat sears and the fat crisps.
Scatter the chorizo and fennel around the pork loin. Place the apples on top of the fennel and chorizo.
Season the entire pan with salt and pepper.
Deglaze the pan first with reserved orange juice and then fino sherry.
Add 1 cup of chicken broth.
Place the pan in the preheated oven for 30 minutes.
After 30 minutes reduce the oven temperature to 375ºF or 350º F convection. Cook for about 30 minutes longer until the internal temperature into the middle of the roast reads 140ºF.
Remove the pan form the oven and cover with foil, allow to rest for at least 20 minutes before serving.
Slice the roast thin and garnish with apples, fennel, chorizo and pan juices.